Algo 8180 SIP Audio Alerter / Pager
Description
Documents
Customer Reviews (1)
IP Loud Ringer, SIP Speaker, & Voice Paging Device
The 8180 SIP Audio Alerter is a SIP compliant PoE network audio device for loud ring and voice paging applications using dual endpoints. When registered with a SIP server, one endpoint will play an audio file from internal memory upon ring detection. The second endpoint will auto-answer for voice paging, complete with two-way talkback.
Equipped with a high efficiency integrated amplifier and tuned high quality loud speaker, the 8180 is typically eight times louder than a telephone speaker. If the optional 1185 Horn Speaker is used, then the 8180 can be twenty times louder. Several audio files are pre-loaded into the 8180 internal memory for ring sounds but users may also record or upload custom audio files, music, sound effects, or voice announcements.
The advanced features of the 8180 include SoundSure™ technology which automatically adjusts loud ring and paging volume to compensate for background ambient noise. Ideal for variable noise environments (restaurants, workshops, classrooms, etc.), SoundSure™ ensures that ringing or paging is always heard but not unnecessarily loud.
Outputs for external speaker, slave amplifier, or visual alerter plus multicasting capability enable many more options to enhance notification and alert capabilities. Configuration is possible using the feature buttons or web interface.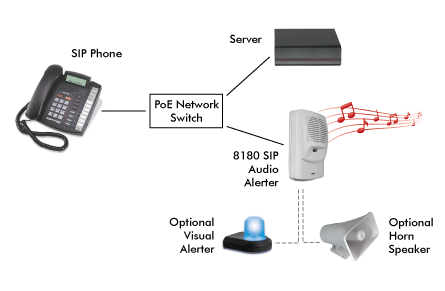 Benefits
Network managed SIP endpoint
Dual purpose loud ringing and/or talkback voice paging
Significantly louder (eight to twenty times) than typical telephones
Low frequency tones outperform traditional shrill electronic ringers
SoundSure™ ambient noise compensation adjusts output for noise level
Selectable/customizable alert tones or announcements
PoE eliminates local power supply
Multicasting capability for wide area notification
Features
Loud Ringer in noisy or variable noise environments (classroom, restaurant, machine shop)
Voice Paging (warehouse, workshop)
Outdoor ringing or paging with optional 1185 horn speaker
Multicast wide area notification
SIP interface with ambient noise compensation for existing speaker(s) or analog input paging amplifier
Visual notification in quiet areas (church, hospital, theatre)
SoundSure™ ambient noise compensation to automatically adjust output level
Voice Paging with talkback capability
High efficiency and high output wideband speaker
Pre-loaded with several ring tones including bell, chime, gong, buzzer, warble, and dogs
Supports custom uploaded WAV files or recorded messages
Multicast receive or broadcast capability
Outputs for external speaker, slave amplifier, or visual alerter
PoE (Power over Ethernet)
1 Reviews for Algo 8180 SIP Audio Alerter / Pager
Great Product - Monday, April 20, 2015

We use the Algo 8180 SIP alerter in our warehouse. Before we had an SIP phone system we simple had an analog bell to alert the people in the ware house that a phone was ringing. Now with the SIP phone system in place we had a problem that the analog bell didn't work anymore. After searching the internet we came across the ALGO SIP alerter. The ALGO SIP alerter solved our problem and the people in the warehouse are once again noticed that a phone is ringing.
Submitting Your Review, Please Wait
Your Review Has Been Submitted Successfully
Add a review for Algo 8180 SIP Audio Alerter / Pager
You must include a title, rating, and message in your review.
Your Review Title
Your Rating
Your Review