3203 Vandal-Proof Digital Door Station
The 3203 Vandal-Proof Digital Door Station is a rugged and tamperproof door station for use with Algo's 3400, 3226, 3228, and 8028 Doorphone systems. A full duplex capable digital intercom with intelligent voice switching, the 3203 is designed for any environment where there is a high potential for attempted damage or abuse.
The 3203 includes a backlit push button and a switch input port with configurable operation. The station can be surface-mounted or flush-mounted using a standard recessed double gang electrical box or wall opening.
Features
Tamper-proof security mounting screws (package includes special screwdriver)
Solid milled aluminum anodized faceplate (resists dents, cigarette lighter burns, etc.)
Backlit piezo switch allows low-profile visibility in dark environments
No moving parts (switch reacts to touch by sensing capacitance)
Offset grill pattern (can't poke speaker and microphone with a toothpick or sharp object)
Weather and moisture resistant
Rugged low-profile appearance dissuades vandalism
Surface-mount bezel included
Applications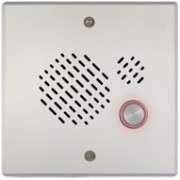 Prisons and Correctional Facilities
Police Stations
Schools and Universities
Security
Government Buildings
Public areas
Underground parking lots